An accident in Henderson only takes a few seconds to change the rest of your life. Serious and painful injuries, expensive medical costs, lost wages from being unable to work, emotional suffering and distress…an accident can have a snowball effect on all aspects of life. If another person's negligence caused your accident, you may be entitled to financial compensation.
At Koch & Brim, LLP, we are passionate about bringing careless and reckless parties to justice. We have everything you need to fight for the case results that you deserve. Contact us today for a free consultation.
Why Should I Choose Koch & Brim, LLP?
Our Las Vegas personal injury law firm has been providing the highest quality legal services to clients for more than 42 years. We are trusted and reputable lawyers in Henderson.
Our law firm uses a wide range of legal resources and experience to give our clients the strongest possible injury cases. We have successfully secured millions of dollars on behalf of our clients.
We believe in honesty, integrity, ethics and transparency in everything that we do. You will feel seen, heard and respected from the very first conversation with your personal injury lawyer.
How Does Personal Injury Law Work? Do I Have a Case?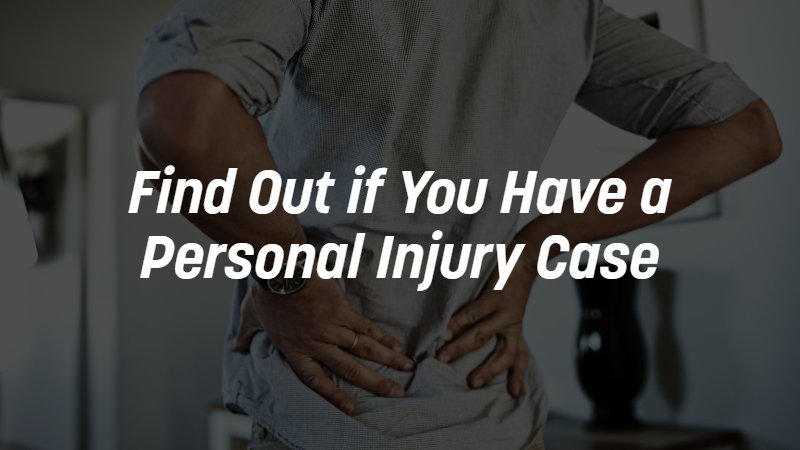 Personal injury law gives accident victims the opportunity to hold negligent parties accountable for the injuries that they cause. Most personal injury cases are brought on the legal basis of negligence. Someone is negligent if they fail to act with proper or reasonable care, resulting in harm to others. Negligence consists of four elements of proof:
Duty of care. A duty of care is a legal or ethical obligation that one party has to exercise a normal amount of care based on the circumstances.
Breach of the duty of care. A breach of the duty of care can refer to any act or omission that a reasonable and prudent party would not have taken in a similar situation.
Damages. Damages are specific losses suffered by the victim or plaintiff in the accident, such as injuries, medical bills and property damage.
Causation. Causation is proof that the accident and damages would not have occurred but for the defendant's breach of the duty of care.
You may have grounds to file a personal injury case in Henderson, Nevada if one or more parties fell short of their duty or obligation of care and injured you, such as a drunk driver or a careless property owner. To find out if you have a personal injury case, contact our attorneys for a free review. We'll listen to your story and let you know if your case has merit.
Do I Need a Personal Injury Lawyer?
A personal injury lawyer can be crucial. A lawyer will explain your legal options and rights under Nevada law, go up against an insurance company on your behalf, and pursue maximum financial compensation for your serious injuries using aggressive legal strategies. Your lawyer will not make you handle the claims process on your own when you should be focusing on healing.
An insurance company is more likely to take you seriously and offer fair financial compensation if you have an attorney. While insurers are always focused on their bottom lines, an insurance company cannot take advantage of you with a lawyer advocating for your rights. Your lawyer will handle negotiations or even take your case to trial, if necessary, to achieve fair case results from an insurer.
Hiring a personal injury lawyer in Henderson also grants you access to important resources that can build and strengthen your claim. A law firm has connections to accident reconstruction experts, medical experts, private investigators, doctors and other parties who can help you heal from your injuries and prove your case. Your lawyer will do whatever it takes to optimize the outcome of your case while you concentrate on your recovery.
How Much Does a Personal Injury Lawyer in Henderson Cost?
At Koch & Brim, LLP, you won't pay us anything in legal fees unless you win your case. This is our No Fee Guarantee. We ensure that high-quality legal representation is affordable for all accident victims throughout Nevada by operating on a contingency fee basis. With this arrangement, if you don't win, you don't pay.
We charge $0 upfront to take your case. You'll only pay if and when you obtain financial compensation for your case. If we succeed in collecting financial compensation on your behalf, we will charge our fees out of the amount won, not out of your pocket. We charge a pre-agreed upon percentage rate that is based on your specific case. You'll always know exactly how much our fees are as your attorneys.
Types of Cases Accepted at Koch & Brim, LLP
It's important to hire an attorney in Henderson who has experience handling your specific case type. At Koch & Brim, LLP, our lead attorneys have spent decades representing clients involved in many different types of personal injury accidents. Our practice areas include:
Pedestrian and bicycle accidents
Bus accidents
Hit-and-run accidents
Rideshare accidents
Construction accidents
Dog bite injuries
School and child injuries
Slip and fall accidents
For each client that we represent, we provide personal attention from a lawyer – not a paralegal or associate – who specializes in that type of case. We know how to bring about the best possible outcome for each individual client using tailored legal services.
Types of Damages Available
Damages is the legal term for the financial compensation that is available in a personal injury lawsuit. Understanding the damages in your case can help you fight for a fair and full settlement from an insurance company. You or your lawyer will need to create a comprehensive list of your compensable losses to submit in your demand letter to an insurance company. Damages are grouped into three main categories.
Economic Damages
Economic damages refer to the financial side of a personal injury accident: the hospital bills, emergency care, surgeries and treatments, medications, losses of income, property damage repairs, totaled vehicle replacement, disability expenses, vocational rehabilitation, disability accommodations, live-in care, transportation or travel costs, attorney's fees, and any other money you had to spend because of the accident. They are also referred to as tangible or special damages.
Noneconomic Damages
Noneconomic damages are the losses that you suffered in an accident that cannot be categorized as monetary. They encompass the personal or intangible effects of an accident and injury, such as physical pain, suffering, emotional distress, mental anguish, psychological trauma, post-traumatic stress disorder, loss of consortium, diminished enjoyment or quality of life, and grief over losing a loved one.
Punitive Damages
Punitive damages are in a different class than economic and noneconomic damages. Economic and noneconomic damages are compensatory, meaning they compensate a victim to make him or her whole again. Punitive damages, on the other hand, are meant to punish a defendant. They are only available in cases where a defendant is guilty of gross negligence, fraud, malice or oppression.
Are Damages Capped in Nevada?
For the most part, no. Unlike some states, Nevada generally does not have damage caps. A damage cap is the maximum amount of financial compensation available for an injury claim. Most medical bills, pain and suffering, and other damages are not capped at a maximum limit in Nevada. There are three exceptions, however:
A claim against a government employee. Damages against public employees are capped at $100,000 under Nevada law.
A medical malpractice claim. There is a $350,000 cap on pain and suffering damages specifically in medical malpractice lawsuits.
Punitive damages. Regardless of the type of case, punitive damages are capped at $300,000 if the compensatory damages are $100,000 or less or three times the amount of compensatory damages if they are $100,000 or more.
Before you accept a quick settlement from an insurance company for a serious or catastrophic injury, bring your case to a lawyer at Koch & Brim, LLP for a free consultation. You may be entitled to more than an insurance company initially offers. A lawyer will give you an honest and accurate evaluation of how much your case is worth.
Does Filing a Personal Injury Claim Mean You Will Go to Trial?
No. The vast majority of personal injury cases don't go to trial; they are successfully resolved with insurance settlement agreements. A settlement agreement occurs when the insurance company and the injured accident victim agree upon an amount of money that is acceptable to resolve the legal dispute.
A settlement ends a personal injury case with the claimant's signature on a release of liability waiver, typically after negotiations that occur over the phone or in person during mediation. However, if an insurance company refuses to offer a settlement that is reasonable or wrongfully denies a claim, the case may have to go to trial. A personal injury trial involves both sides of the case providing arguments, evidence and witnesses before a judge and jury.
You or your lawyer must meet the burden of proof during your trial for the defendant to be found liable for your accident and made to pay a judgment award. The amount of the award is up to the jury. Whether or not your case goes to trial depends on the case as well as your goals. You can work with your attorney on a legal process that works for you.
Statute of Limitations on Personal Injury Cases in Nevada
A statute of limitations refers to a legal deadline for bringing a claim or cause of action. Every state has different statutes of limitations. They also change according to the type of case. In Nevada, the general statute of limitations on a personal injury case is two years from the date that the injury occurs or the date that you discovered (or reasonably should have discovered) the injury. There are some exceptions, however, for unique situations:
Property damage only claims: three years from the date of the accident.
Injured minors: two years from the minor's 18th birthday.
Medical malpractice cases: three years from the date that the medical negligence occurred, or one year from the date of reasonable injury discovery.
Wrongful death: two years from the date of the decedent's death.
In Nevada, if you wait too long and try to file a claim after the statute of limitations has already expired, the courts will most likely refuse to hear the case. This will make you ineligible for financial compensation, even if you have proof of a defendant's negligence. It is important to consult with a personal injury lawyer as soon as possible after your accident. This will help you avoid missing your deadline to file.
Questions to Ask a Personal Injury Lawyer
When looking for the right personal injury lawyer to take your case, schedule free consultations with a few top options in Henderson. It is important to speak to a potential attorney to learn more not only about the attorney and law firm but your case, as well. Bring a list of questions to ask your lawyer along with important case documents, such as an accident report and your medical records. Here are some questions you can ask to find out if a lawyer is the right choice for you:
How long have you been practicing personal injury law?
Do you think I have a personal injury case?
Do you have experience litigating cases like mine?
How much do you think my case is worth?
How long will my case take to resolve?
Do you think my case will have to go to trial?
Do you have any examples of past case results?
Who will be handling my case?
How much does it cost to retain your services?
Finding the right lawyer is an important part of your financial recovery as an accident victim in Henderson. Look for a personal injury lawyer that feels right to you. You should get your lawyer's undivided attention during your consultation; a lawyer who makes you feel seen and heard. You should feel confident that your lawyer has the experience, abilities and resources to successfully handle your case. Finally, you should be able to get honest and reliable information about your case and the legal process ahead.
Injured in an Accident in Henderson, NV? Contact Us for a Free Case Review
After an accident, we know that you may be experiencing physical pain, emotional trauma and financial stress. We are here to help you rebuild your life by holding a negligent party responsible for your economic and noneconomic damages. The results that we may be able to obtain on your behalf can help you pay for your required medical care, make up for lost wages and pave the way for a brighter future.
Learn more today during a free consultation with one of our Henderson personal injury lawyers. Contact us online anytime or call (702) 410-6034 to speak directly to an attorney.