In almost every case, the pedestrian has the right of way. When a pedestrian is hit by a car or truck, the car or truck driver is usually liable for the pedestrian's injuries. The Las Vegas personal injury lawyers at Koch & Brim in Las Vegas can help you make a personal injury claim against the driver who hit you or a family member.
Providing Care for Pedestrians Hit by Cars or Trucks
Our lawyers will work hard to help you recover the compensation that you deserve for your medical bills and other costs after a pedestrian accident. We are passionate about pursuing justice for our clients, whether you are a resident or a visitor from out of state. Contact us today for a free case consultation with one of our pedestrian accident attorneys.
Our lawyers will work hard to help you recover the compensation that you deserve for your medical bills and other costs after a pedestrian accident. We are passionate about pursuing justice for our clients, whether you are a resident or a visitor from out of state. Contact us today for a free case consultation with one of our pedestrian accident lawyers.
Why Choose Koch & Brim's Pedestrian Accident Attorneys?
We have more than 42 years of legal experience. Our attorneys know the ins and outs of Nevada's laws and have successfully resolved hundreds of Las Vegas traffic accident cases.
Your case will be treated with individualized attention and care. Your lawyer will get to know you, learn the impact the accident has had on your life and personalize your legal services.
Our Las Vegas pedestrian accident attorneys operate on a contingency fee basis, with no fees charged unless we succeed in securing financial compensation for you.
How a Las Vegas Pedestrian Accident Attorney Can Help
If you were injured in a pedestrian accident, you may have suffered serious injuries. An experienced pedestrian accident lawyer in Las Vegas can assist you with all aspects of your claim so you can concentrate on your recovery. When you hire Koch & Brim, you can trust us to do the following:
Coordinate medical care
If you were involved in a car or truck accident, you need medical care. If you do not have health insurance or if your doctor does not want to get involved in an accident claim, call our law firm. Our Las Vegas personal injury attorneys will help you find a competent doctor who will treat your injuries. We can also assist you with issues related to medical liens.
Handle your personal injury claim
In a pedestrian accident, the at-fault driver's insurance company is required to provide coverage for bodily injury. The injured pedestrian may also have additional coverage available on a family car insurance policy. If the accident was a hit and run, the uninsured motorist coverage would apply. Our lawyers can help you determine how and where to make a claim in your case. We can also handle all communications with the insurance company to relieve you of this responsibility and to protect your rights.
Determine who is liable for your injuries
What if you were hit on private property? If someone backed into you in a grocery store parking lot, ran into you in a gated community or hit you while you were standing at a casino valet stop, the driver is as liable as the driver who hits a pedestrian on a public road. Your lawyer can explain your rights and identify all potentially responsible parties.
Explain your rights
Many of our clients are out-of-state visitors who may not be familiar with various Nevada laws. Our law firm is available to help tourists who were injured in pedestrian accidents while visiting the Las Vegas area. It is important for injured pedestrians to hire a local lawyer for your accident claim, as he or she will understand Nevada's injury laws and how to navigate them to your advantage.

Pedestrian Fatality Statistics in Clark County, NV
The number of pedestrian deaths in Las Vegas has been increasing in recent years. 391 pedestrians died in crashes on Nevada roads between 2016 and 2020, representing more than one-quarter of the annual fatalities in Nevada. According to the Nevada Department of Transportation, there were 4,964 pedestrian crashes during this time period, including 4,237 injury crashes. Clark County consistently reports the largest number of fatal pedestrian accidents in Nevada, sometimes accounting for up to 80 percent of all pedestrian fatalities in the state. Nearly 90 percent of Nevada pedestrian fatalities occur in urban areas.
Most Common Causes of Pedestrian Accidents in Las Vegas
Pedestrians are the most vulnerable road users. This means that they are the most susceptible to serious injuries in traffic accidents, such as broken bones, spinal cord injuries, traumatic brain injuries and fatal injuries. Yet most pedestrian injuries and fatalities are preventable. In the majority of cases, investigations link pedestrian accidents in Las Vegas to driver errors. Common examples of driver mistakes that lead to pedestrian collisions include:
Distracted driving
Texting while driving/cell phone use
Driving under the influence of alcohol or drugs
Speeding
Running red lights and stop signs
Ignoring traffic control signals
Failing to stop for pedestrians
Failing to yield the right-of-way
Getting hit by a motor vehicle is not the only type of pedestrian accident that we handle at Koch & Brim, LLP. According to the U.S. Department of Transportation, the most common causes of pedestrian accidents are slip/trip and fall accidents, pedestrians not utilizing crosswalks, and pedestrians distracted by smartphones/headsets. Our experienced Las Vegas attorneys can successfully navigate all of these types of pedestrian accident cases, and more.
Damages Available for a Pedestrian Accident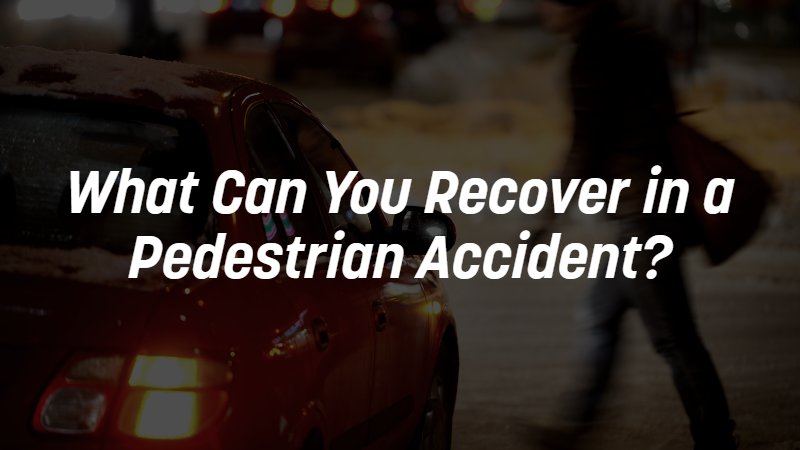 The amount of financial compensation – referred to as damages – that you can recover for a Las Vegas pedestrian accident depends on your particular case. Some claimants receive $10,000 or less for their injuries while others collect seven-figure awards for catastrophic damage. The driver's car insurance policy, the severity of your injuries, your prognosis for recovery, your age, income and many other things will be factored into your settlement or judgment calculation.
An injured pedestrian in Nevada can collect compensation for many different losses, such as:
Medical expenses – both present and future care
Disability accommodations for a permanent or long-term injury
Significant scarring or disfigurement
Lost wages and capacity to earn in the future
Any money that you spent out of pocket, such as on transportation or legal fees
Physical pain, emotional distress and psychological trauma
Lost quality or enjoyment of life
Wrongful death benefits if you've lost a loved one
Punitive or exemplary damages, in some cases
With a lawyer from Koch & Brim, LLP on your side, you can negotiate for maximum financial compensation for a life-changing pedestrian accident. Your lawyer will demand fair results using aggressive legal strategies when going up against insurance companies on your behalf. If a fair settlement cannot be reached, we are prepared to go to trial as your litigation attorneys. We are a small law firm that delivers big results for Las Vegas accident victims.
Who Can Be Held Liable for a Pedestrian Accident?
Nevada is a fault-based state for car accidents. Under the fault-based law, the party that caused the accident is responsible (liable) for covering the costs – typically through an insurance policy. Parties that may be liable in your accident claim could be:
The driver
The first party you may turn to for compensation is the driver of the vehicle that hit you. The driver may have driven carelessly by:
Speeding
Failing to yield the right-of-way to pedestrians in a crosswalk
Failing to keep a proper lookout for pedestrians
Driving while distracted, impaired, or fatigued
Illegally passing another vehicle in a crosswalk
Running a red light or stop sign
The driver's employer
If the driver was working at the time of the accident, the driver's employer may be responsible for the accident due to the legal concept of vicarious liability, which holds employers responsible for the negligence of their employees.
A trucking company
If a trucker hit you, the trucking company that hired the driver could be financially responsible for the accident.
A mail carrier or delivery company
If the driver was delivering mail or goods, the company that employs the driver may be at fault for the accident. This situation can be more complicated if the driver is an independent contractor and not a direct employee of the delivery company, but a lawyer can help sort out liability issues.
The city or state government
If the accident was caused by dangerous roads or defective traffic control devices, the city or state government may be responsible for your injuries.
A private property owner
If you were injured on private property, the owner of the property may be at fault for the accident.
A vehicle manufacturer
Vehicle or parts manufacturers may be responsible for accidents caused when the motor vehicle or one of its components is defective and contributes to the wreck.
Discussing your case with an attorney can help you identify all of the defendants who played a role in causing your injury. This can increase the odds of collecting maximum compensation for your losses, as multiple defendants means more than one insurance policy available. If you have a complicated case, such as a hit-and-run pedestrian accident or a crash involving an uninsured driver, a lawyer can explain your legal options in this scenario.
What Is Comparative Negligence? How Might it Affect Your Case?
It is not uncommon for an insurance company to assert the comparative negligence defense in a Las Vegas pedestrian accident case. This defense argues that you caused or contributed to the crash as the injured party. Under Nevada's modified comparative negligence law, you are still able to recover some financial damages even if a portion of the blame for the pedestrian accident is placed on you. This is why it is critical to speak to an attorney before assuming that you are ineligible for coverage.
We Are Your Las Vegas Pedestrian Accident Attorneys
If you get hit by a car while you're walking in Las Vegas, you may need assistance from a pedestrian accident attorney to demand justice and fair financial compensation. Holding a driver accountable for a pedestrian accident can be difficult, especially when you're already dealing with painful or debilitating injuries. We can make the legal process easier so that you can move forward. Contact Koch & Brim, LLP about your case. We offer free consultations! Contact us online, or Call us in Las Vegas today! (702) 410-6034
Recent Client Review:
"I was very satisfied with the services of your office, whether it be your professionalism or attention to details. If in the event I require your services again in the future, you can be sure that this office will be my first stop. Thank you very much."
– Jared