Trucks and commercial vehicles are large and heavy, and almost always cause serious injury or death. The Las Vegas truck accident lawyers at Koch & Brim, LLP will work to recover a settlement that covers the needs of seriously injured people while they focus on getting medical attention. Contact our team of commercial truck injury attorneys at Koch & Brim, LLP in Las Vegas, NV for a free consultation about your case today!  (702) 410-6034
Why Choose Koch & Brim's Las Vegas Truck Accident Lawyers
We have the experience necessary to handle even the most complex Las Vegas truck accident cases. Our attorneys have been representing clients for more than 40 years.
We have achieved millions of dollars in settlements and jury verdicts for past clients using proven legal strategies.
Our truck accident attorneys are affordable. We offer free initial case reviews and do not charge any fees upfront for our legal services.
Las Vegas Truck Accident Quick Links
How Can a Las Vegas Truck Accident Lawyer Help?
A truck accident claim can be complicated, with confusing laws and legal requirements that you must follow. In addition, insurance companies prioritize their bottom lines over their clients and use many tactics to devalue claims. Hiring a personal injury attorney is the best way to protect your legal rights while also focusing on healing. An attorney can help you by taking care of many different legal processes, including:
Investigating the truck accident
Collecting evidence
Gathering the truck's black box information
Interviewing eyewitnesses
Filling out and filing legal paperwork
Bringing your claim before the deadline
Negotiating with an insurance company
Taking your case to court, if necessary
Having an experienced Las Vegas truck accident attorney by your side throughout the claims process means that you can rest assured someone is looking out for your rights and best interests. An attorney will overcome the challenges related to your case while you and your family concentrate on moving forward.
Attorney William Brim Discusses Truck Accident Cases
Common Mistakes Truck Drivers Make that We Build A Case Around:
Highway trucking accidents: A fully loaded 18-wheeler driving at interstate speeds that crashes can cause terrible injuries and even wrongful death. There are many different factors in these collisions, and a lot of them can be preventable by the truck driver or passenger vehicles. Our Las Vegas personal injury lawyers have summarized these factors as follows:
Driver fatigue. Drivers with tight and/or unrealistic schedules can lead to long driving hours for drivers, which can cause drowsiness.
Distracted driving. There are many distractions for a driver on the road, including texting or taking on the phone. Our distracted driving lawyer will help you receive compensation if a truck driver's negligent actions cause you injures because they were not paying attention to the road.
Improper maintenance. Failures to check brakes, fluids and other routine equipment checks can cause malfunctions on the road. Trucking companies are required to keep all their vehicles in perfect working order and keep updated maintenance records.
Improper cargo loading. Inexperience in proper cargo securing can cause accidents. Also, if the truck driver decides to load his truck over capacity, it can cause incidents while driving. Trucking companies have set weight limits that they must abide by to be safe on the road.
Speeding. Drivers not paying attention to their speedometer, or trying to make up time on the road are common reasons for truck drivers speeding.
Poor truck training. Truck drivers are required by law to have proper training and log driving time in order to maintain safety on the road. An inexperienced driver on the road might not know how to handle certain situations on the road, which might result in an accident with other vehicles.
DUI with drugs or alcohol. Substance abuse while on the road can seriously impair a driver and increases the chances of fatal accidents. Talk with a drunk driving accident lawyer in Las Vegas if a truck driver is intoxicated when they hit your car.

Top Causes of Trucking Accidents by Passenger Vehicles our Injury Attorneys Review
Driving in truck blind spots. Many trucks on the road have multiple mirrors or cameras in place to increase visibility around their vehicle, but there are areas around a truck that aren't visible to a driver.
Passing semi-trucks on the right side. This is especially dangerous when the truck driver is trying to make a right turn.
Merging quickly ahead of a truck. Trucks are extremely heavy, especially when they are loaded with cargo, and it takes a long time for a truck to slow down.
Neglecting braking distance. Failing to give a truck driver ample braking distance can cause a collision.
Driving between trucks. With blind spots and wind turbulence, this can lead to a dangerous situation for a passenger vehicle.
Parking on the side or shoulder of the road. Most trucks are fairly large and require a lot more of the lane for safe passage. Obstructing a lane with a passing truck can lead to a dangerous accident.
Common Truck Accident Injuries
Every year, truck accidents send thousands of victims to emergency rooms with life-threatening injuries. The injuries suffered by victims are often severe and life changing. You or your loved one may never be the same after a commercial truck accident in Las Vegas. Common injuries associated with truck accidents include:
Bone fractures
Muscle strains and tears
Soft-tissue injuries
Whiplash
Lacerations
Internal injuries
Traumatic brain injuries
Paralysis
Loss of limb
Permanent disability or disfigurement
No matter what type of injuries you suffered in a truck accident, speak to an attorney about pursuing a personal injury claim. The law may entitle you to financial compensation for all of the losses associated with your injuries, from hospital bills to emotional distress. Our lawyers at Koch & Brim, LLP accept claims involving all types of injuries.
Accidents with Commercial Trucks or Delivery Trucks in Las Vegas
Taking a turn without maintaining the proper lane, backing over pedestrians or bicyclists, pulling out into traffic, failing to see motorcycles, sideswiping cars – all can cause serious injury in a truck accident. At our law firm, our Las Vegas personal injury lawyers negotiate with the insurance company on behalf of accident victims, and, in many cases, with the trucking company.
Who Can Be Held Accountable for a Truck Accident?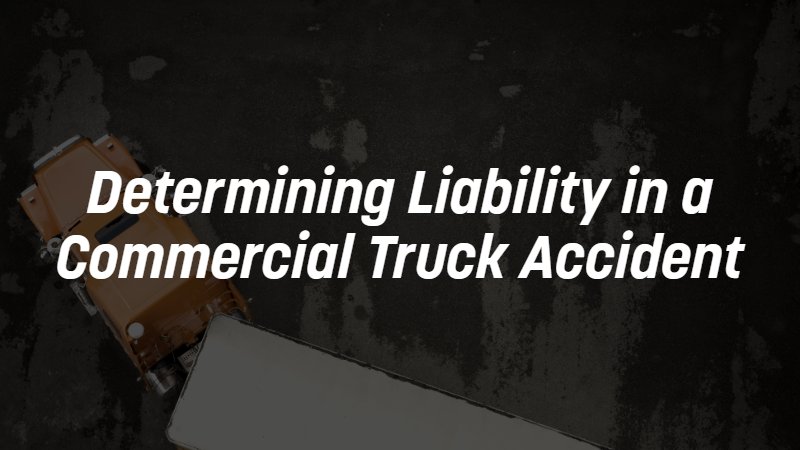 Holding someone accountable, or liable, for your truck accident in Las Vegas requires an understanding of Nevada's car accident insurance laws. Nevada, like most states, uses a tort-based insurance law, where the party at fault is financially responsible for crash-related losses, including medical bills and property repairs. It is necessary to determine fault for your truck accident before you can file an insurance claim. In a no-fault state, on the other hand, you would file a claim with your own insurance provider regardless of who caused the crash.
Most truck accident cases in Las Vegas are brought against trucking companies. Trucking companies are legally required to ensure the safety of their trucks and drivers, such as by properly maintaining their fleets and training drivers in how to operate big rigs safely. If a trucking company is negligent, it may be liable for a related truck accident. The trucking company could also be vicariously liable for the mistakes of its employees and truck drivers working as independent contractors.
You may be able to hold someone other than the truck company accountable for your truck accident, depending on the cause of the crash. If a tire blowout due to a defective product caused the truck accident, for instance, you may have grounds for a product liability lawsuit against the tire manufacturer. Other liable parties may include the cargo company, maintenance team, a property owner, a third-party driver or the government. Some truck accident cases in Las Vegas have multiple defendants.
What Happens When a CDL (Commercial) Driver Has an Accident?
Whether or not a truck driver is held individually liable for a truck accident, he or she could face other repercussions for causing the crash. The truck driver could be fired from the trucking company, for example, although this is not a guarantee. Many trucking companies continue to employ drivers even after they cause truck accidents to avoid the cost and hassle of hiring new drivers.
Depending on what caused the crash, the truck driver may lose his or her commercial driver's license. If the driver was intoxicated or driving recklessly, for example, the Department of Motor Vehicles may order the driver's CDL to be suspended or revoked. This can interfere with the driver's ability to work as a truck driver in the future. If the truck driver is found guilty of a crime in connection to the crash, the driver could also face fines and jail time.
The consequences faced by a commercial driver after a truck accident in Nevada will depend on the circumstances of the crash. If the truck driver was not officially on duty at the time of the accident, the crash may not impact his or her career. The driver also might not face any adverse outcomes if the crash was not the truck driver's fault. Conversely, if the truck driver already had a history of multiple accidents or infractions, the driver may face more serious ramifications.
Obtaining Compensation for Construction Truck Accidents
Construction vehicles are heavy and dangerous. They can cause extensive property damage and serious injuries to pedestrians or drivers hit by road or building construction. At Koch & Brim, LLP, our Las Vegas construction accident attorneys represent people who have been injured in a vehicle related construction accident. Multiple liability: Our Las Vegas personal injury lawyers take the time to explore all possible liabilities in an accident to find maximum compensation for serious injuries and wrongful death. In a construction vehicle accident, the construction company, the vehicle owner and the project owner may share liability.
Serious Injuries Can Happen in Semi Truck Accidents
Because of weight and speed, when a truck or commercial vehicle crashes into a car, the injuries are often catastrophic. A spinal cord injury, for example, can require multiple surgeries, cause paraplegia or quadriplegia, and require a lifetime of medical and personal care. Our Las Vegas car accident attorneys seek every possible liability and insurance resource to make sure the injured person has adequate compensation.
Damages Available
Damages is the legal term for the types of compensation that you may be eligible to receive during a civil lawsuit, such as a car or truck accident claim. The damages available to you as a crash victim in Las Vegas can refer to both economic and noneconomic losses connected to the truck crash, including:
Medical bills
Property repairs
Lost wages
Pain and suffering
Diminished quality of life
Punitive damages
An attorney can help you create a full list of the damages that you suffered. This is the list that you will send to the auto insurance company as part of your demand letter. From there, your attorney can help you negotiate for a settlement that is appropriate based on the type and extent of your losses.
How Much Is Your Truck Accident Worth?
How much you can receive in financial compensation for your truck accident in Las Vegas depends on the surrounding circumstances. For example, an insurance settlement or jury verdict is based in part on how significantly the crash impacted your life. If you suffered serious or catastrophic injuries, your case may be worth more since you will face greater related medical bills and losses.
Our attorneys at Koch & Brim, LLP can review your case to give you an estimate of how much it is worth. Then, if you retain us as your lawyers, we can fight for maximum financial compensation from an insurance company on your behalf. We can help make sure an insurance company offers a fair and full value for the extent of your injuries and losses rather than devaluing your claim. We can also take your case to trial if the insurance company does not offer a reasonable settlement.
Commercial Insurance
Big trucks are usually insured by commercial insurance companies that do not have a local office. Our attorneys have the experience and knowledge required to find and negotiate with the right insurance personnel.
For our out-of-state clients: If you were injured in a commercial truck crash while visiting Las Vegas, we can represent you and stand up to insurance companies on your behalf.
How Much Do Trucking Accident Attorneys Charge?
At Koch & Brim, LLP, we believe that every truck accident victim should have access to top-quality legal representation. This is why we take cases on a contingency fee basis. This payment arrangement means that if we don't win your case, you won't pay for our legal services. If we are successful in securing financial compensation on your behalf, we charge our fees as a percentage of the settlement or verdict achieved rather than billing you directly.
With this arrangement, you don't take on any of the financial risk of your case and will not have any attorney's fees upfront. We promise that our attorneys will always be straightforward, upfront and honest about their fees while handling your case.
What to Do After a Truck Accident in Las Vegas
Taking the appropriate steps after being in a truck accident in Las Vegas can ensure the protection of your legal rights. Our attorneys can help you with the following steps:
Call the police. Always report a truck accident, no matter how minor.
Check for injuries. Request an ambulance, if necessary.
Exchange information with the truck driver, including insurance information.
Give the police your side of the story when they arrive.
Take photographs while still at the scene.
Write down eyewitness names and phone numbers.
Go to a hospital in Las Vegas.
Call the truck driver's insurance company to file a claim.
Cooperate with the insurance company's investigation.
Contact a truck accident lawyer in Las Vegas before accepting a settlement.
If you are too badly injured to perform these steps, don't worry. Our lawyers can take over your truck accident case at any stage to help you fight for the financial compensation that you deserve. We will be there for you and your family every step of the way.
Las Vegas Truck Accident Attorney – Free Consultations!
If you were involved in a collision with a semi truck and you were injured because of the other driver's negligence, we can help! We will fight for a fair compensation for damages, as well as for pain & suffering while you focus on getting medical care. We have two convenient office locations in Las Vegas, NV.
Contact our team of commercial truck accident attorneys at Koch & Brim, LLP in Las Vegas for a free consultation about your case today!  (702) 410-6034
Recent Client Review:
"I have had most wonderful experience with the family here at Koch & brim. They went way & beyond with assisting my needs." – Lisa