Las Vegas Wrongful Death Lawyer
When a loved one's death is caused by someone else's negligence, the grief can be especially hard to bear. Our Las Vegas wrongful death attorneys give personal attention to families that are facing the future without a loved one. From the time you ask for our help until the settlement, you will have a personal representative lawyer who is fully involved in your wrongful death case.
Why Choose a Las Vegas Wrongful Death Lawyer from Koch & Brim
We are a small law firm that delivers big results. You and your family will receive the personalized attention and one-on-one care that you need while also benefiting from exceptional legal resources and experience.
We will pursue justice on behalf of your loved one while keeping your family's needs and goals in mind. We know how difficult it is to take on the legal process while mourning a family member. We will do what we can to make things easier.
Our wrongful death lawyers in Las Vegas operate on a contingency fee basis. This means that you will not pay your attorney anything in legal fees until and unless we recover financial compensation for your case.
Wrongful Death Resources and Frequently Asked Questions
What Does a Las Vegas Wrongful Death Attorney Do?
The grief and emotional trauma of losing a loved one can be overwhelming. You have enough to deal with as a grieving family member – especially after losing the breadwinner of your family. You may wish to seek justice for the unjust death but do not want to take on the legal process. This is when you should trust a Las Vegas wrongful death lawyer to handle legal matters for you. An attorney can efficiently and effectively handle the legal side of a lawsuit while you focus on healing. Our lawyers can:
Investigate the fatal injury or illness for signs of negligence.
Preserve and collect any available evidence to support a Las Vegas wrongful death claim.
Explain your rights and answer your legal questions as your personal representative.
Fill out and file confusing legal paperwork.
Advocate for your loved one and surviving family members in and out of civil court.
Go up against insurance companies on your behalf.
Negotiate for a fair settlement.
Take your wrongful death lawsuit to trial in Clark County, if necessary.
At Koch & Brim, you do not have to worry about how much hiring a lawyer will cost. You will never pay for our representation out of pocket, win or lose. If our law firm succeeds in recovering financial compensation, we will charge our fees as a percentage of the overall award won. If your case does not end in a monetary recovery, you won't pay us for services rendered, guaranteed. We are always honest and upfront about our services, prices and how we can help.
William Brim Discusses Wrongful Death Cases
What Is Wrongful Death?
The legal definition of wrongful death is different from state to state, but the basic meaning remains the same. Under Nevada Law, A wrongful death is a death caused by someone else's careless or wrongful acts. According to Nevada Revised Statutes Section 41.130, if someone suffers a fatal personal injury by the wrongful act, neglect or default (omission) of another person, the person who caused the injury is liable to the person injured for damages. The statute gives a plaintiff the right to file a civil claim against one or more defendants to hold them liable for causing a wrongful death. Liability refers to legal and financial responsibility for a civil tort, or wrongdoing. Although nothing can bring a loved one back, filing a civil wrongful death suit can provide a sense of justice and closure. The financial compensation available could also help your family pay for related bills and move forward with less financial stress.
Specifics about Wrongful Death Cases in Las Vegas
When a parent, a child, a spouse or anyone in a family is killed because of someone else's negligence or wrongful conduct, there is no amount of money that will change that awful fact. However, the Las Vegas personal injury lawyers at Koch & Brim, LLP law firm understand that financial compensation is almost always necessary to address the economic realities of a wrongful death. Learn more about what to expect from a wrongful death case to prepare for the process ahead.
Negligence and liability
When negligence causes a wrongful death, the negligent party is liable. Negligence is what most personal injury and wrongful death lawsuits are based upon. Negligence is a legal doctrine that describes a failure to act with reasonable care, resulting in harm or injury to others. If an injured victim or loved one (plaintiff) can prove that a defendant was negligent and that this caused the injury or death in question, the defendant will be financially responsible. For example, the at-fault driver in a car accident or truck accident can be held accountable for that negligence. The auto driver that pulled in front of a motorcycle or hit a pedestrian or ran into a bicyclist is liable for the loss of life. The drunk driver who caused a fatal accident is liable to the family. Wherever fatal accidents happen due to the negligence of someone else — at a school, in a casino or hotel parking lot, on the roadway of a gated community — the person or entity responsible is liable for wrongful death. You do not need proof that the defendant in your case committed a crime or intended to take your loved one's life to win a wrongful death lawsuit. It is only necessary to show that the defendant did something that a reasonable and prudent party would not have in the same circumstances and that this caused the fatal injury or illness.
The damages
The wrongful death victim's estate, heirs and personal representatives are entitled to financial compensation, otherwise known as damages. Damages can refer to both economic and noneconomic losses connected to the death, from lost income and burial expenses to surviving family members' mental anguish. The value of your unique claim will depend on the circumstances. Our experienced wrongful death attorneys will get to know you and your family so that we understand the loss of comfort and support. We will use experts to determine the loss of potential earnings and other damages.
The wrongful death claim
Our lawyer will investigate all of the facts concerning the wrongful death accident and contact all insurance companies that may be involved. If there is not enough insurance to cover the legal claim, we will do a full investigation into the negligent person's assets to maximize all potential sources of compensation for the accident victim's family.
What Are The 4 Necessary Elements of a Wrongful Death Claim?
There are typically four elements necessary for a wrongful death action:
The responsibility of the death was fully, or partly caused by the defining party.
The defendant was specifically liable for the death of the victim.
There is a beneficiary for the victim that is surviving. This includes a surviving spouse, child, or any other dependent.
There have been damages of a monetary value that have resulted from the death of the victim
It can be difficult to know whether or not you have grounds for a wrongful death claim without speaking to an attorney. A  Las Vegas wrongful death attorney can carefully investigate your case for signs of wrongful acts. Then, your attorney can build a compelling case against the responsible party by gathering evidence of these elements.
Who Can File a Wrongful Death Claim in Las Vegas?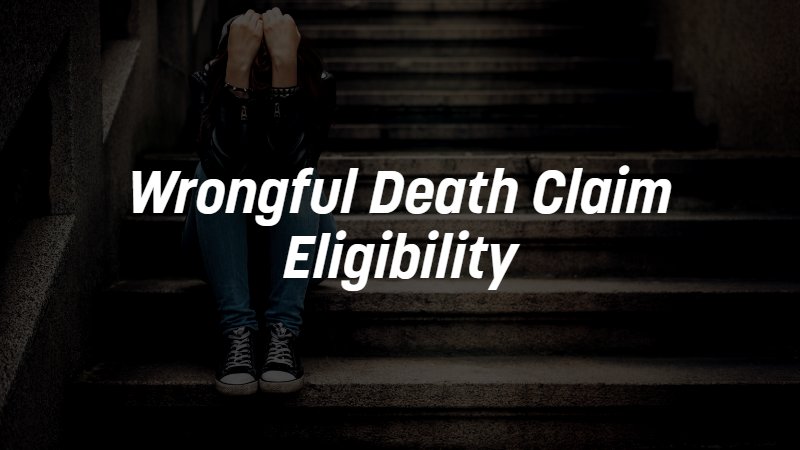 Only certain parties have the legal right to bring wrongful death causes of action in Nevada. Under state law, the following parties have the right to file a wrongful death lawsuit in Las Vegas, NV:
The spouse, children or domestic partner of the deceased
A representative of the deceased person's estate
The parents of the deceased person, if no immediate family member is available
If any compensation is won during the case, it will be distributed among surviving family members according to each individual's level of loss and grief.
What is the Time Limit for a Wrongful Death Claim in Nevada?
You do not have an unlimited amount of time to file the paperwork for a wrongful death claim in Nevada. Like all states, Nevada has a time limit known as a statute of limitations that the courts strictly adhere to. Based on the statute of limitations in the state of Nevada, you must submit a wrongful death claim within 2 years of the date of the death of the person. If the time limit has expired, it's possible that the defendant will have grounds to file a motion to dismiss the case.
What Kinds of Compensation Can You Get From a Wrongful Death Claim?
There are many different ways that people can suffer financially from the death of a family member or a loved one. If you file a wrongful death claim in Nevada, you could be eligible from any of the following from the negligent party:
Medical Expenses
Property Damage
Funeral costs & expenses
Lost wages or work benefits
Loss of heir benefits
Loss of Companionship
Punitive Damages
The final value of your wrongful death claim will depend on the unique circumstances, such as the role the deceased person played in your family, his or her age, his or her income, the insurance coverage available, and more. Our wrongful death lawyers will fight for maximum financial compensation on your family's behalf.
Important Wrongful Death Statistics
Wrongful deaths occur more often than most people realize. According to data from the CDC (Latest Data Available- 2021), here are some important statistics about wrongful deaths:
In the U.S. there were a total number of 224,935 unintentional injury deaths in 2021.
Wrongful deaths from car accidents in 2021 totaled to 45,404 deaths.
There were 44,686 unintentional fall deaths in 2021.
Unintentional poisoning resulted in 102,001 deaths.
In total, wrongful death ranked as the number 4 cause of death in Nevada for 2021.
At Koch & Brim, we are passionate about bringing those responsible for wrongful death to justice. We see the person behind the personal injury and will work tirelessly to give your deceased loved one a voice in the civil justice system after any type of fatal accident.
What Are The Top 6 Causes of Wrongful Death Accidents?
Many different examples of negligence and recklessness can lead to unjust deaths in Las Vegas, Nevada. The six most common situations that result in a wrongful death victim are as follows:
Medical Malpractice
Airplane or aviation accident
Workplace hazard
Criminal behavior
Supervised on premises fatality
Common fatal accidents in Las Vegas include car accidents, motorcycle accidents, pedestrian-vehicle collisions, drunk driving accidents, slip and falls, casino accidents, workplace accidents, and criminal activity. After losing a loved one under any circumstances, reach out to our attorneys to learn more about the legal process.
Free Consultation from our Las Vegas Wrongful Death Attorney
If you have a loved one that was victim to wrongful death by the negligence of someone else, we understand what a painful and troubling situation that you are in. The personal injury lawyer team at Koch & Brim, LLP can help you and your family members seek compensation for financial losses, give you legal advice, as well as help ease the pain & suffering. Contact us at our Las Vegas offices for a free initial consultation with our legal team about your case today! (702) 451-3900.
---
Recent Client Review:
"I was very satisfied with the services of your office, whether it be your professionalism or attention to details. If in the event I require your services again in the future, you can be sure that this office will be my first stop. Thank you very much." – Jared
Serving All of Clark County
Including but not limited to:
Henderson | North Las Vegas | Boulder City | Summerlin | Paradise | Spring Valley | Sunrise Manor | Enterprise | Winchester | Pahrump | Laughlin | Primm | Moapa Valley | Goodsprings | Blue Diamond | Indian Springs | Sandy Valley | Searchlight | Mount Charleston | Overton | Cal-Nev-Ari | Nelson | Centennial Hills | Green Valley | Downtown Las Vegas | The Strip | Rhodes Ranch | Southern Highlands | Canyon Gate | Sun City Summerlin | Anthem | Desert Shores