Like many states in recent years, Nevada has passed laws requiring drivers in the state to have their motor vehicles undergo smog checks and other inspections before registering them. These requirements are meant to reduce emissions and help the environment. In this guide, the Las Vegas car accident lawyers at Koch and Brim lay out the requirements for Nevada drivers. As of 2023, these are the car inspection laws and requirements that you must follow before you register and operate a motor vehicle in Nevada.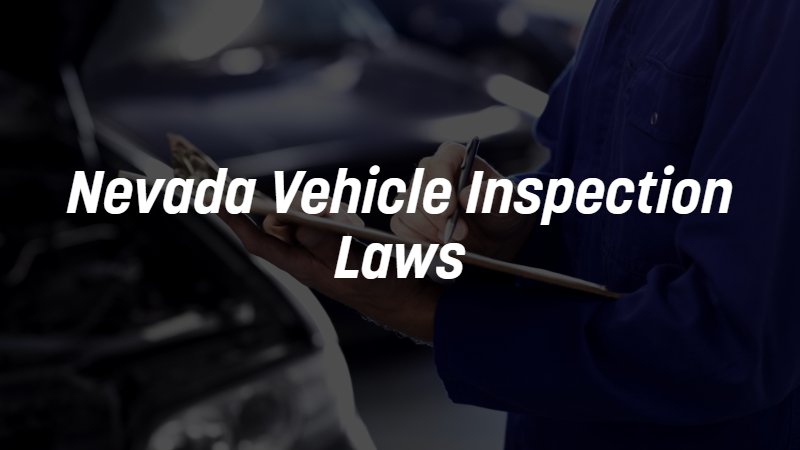 Smog Inspection Requirements
Nevada law makes it mandatory to bring a vehicle in for certain inspections before you can register the car. The main inspection law has to do with smog and vehicle emissions, but this is only necessary if you are based in the areas of Clark or Washoe county. An emissions test measures the level of smog, or pollutants, released into the air by the vehicle. These pollutants include carbon monoxide and hydrocarbons. The state is working to reduce air pollution caused by these emissions through the Nevada Emission Control Program. This test must be performed to initially register a vehicle, as well as at each annual renewal. Your registration renewal notice will let you know if a new emissions test is required.
If your car fails an emissions test, you must pay to complete the necessary repairs at a licensed facility. Then, you must submit to another emissions inspection to determine if your repaired vehicle now complies with Nevada's emissions requirements. If you fail the test a second time, you may receive a waiver to wait until your next registration renewal to take another emissions test. The results of an emissions inspection are valid for 90 days. When a vehicle is purchased from a Nevada dealer, the test will be valid for 180 days from the date the vehicle was tested.
Check if Your Vehicle is Exempt From Emissions Testing
Nevada requires annual emissions tests to renew registration. However, there are exemptions. You are not required to test your vehicle if:
It's electric
It's a model year 1967 or older
It's a motorcycle, moped, or a tri-mobile (most models)
It's a new vehicle in the first 3 registrations
It's a new hybrid car in the first 5 registrations
Bringing a Car Into Nevada
If you move to Nevada from another state with your vehicle, you have 30 days to have your car registered with Nevada plates. You must have the title to the vehicle, an up-to-date registration, a vehicle inspection certificate, a Nevada emission vehicle inspection report and a completed application for new vehicle registration to do so. If you fail to switch your plates within about a month of moving to Nevada, you could face fines and other penalties, such as the temporary suspension of your driver's license.
Purchasing a Car From Out of State
If you live in Nevada but purchase a car from an out-of-state dealer, you must still get it registered in the State of Nevada. You must do this using the title or leasing agreement, proof of car insurance, the bill of sale from the dealer, an odometer reading for the vehicle, the vehicle inspection report and certificate, and a completed application for vehicle registration.
Purchasing a Car in Nevada
If you buy a car that is already in Nevada, all you need is proof of car insurance, a copy of the report of sale from the dealership, the Nevada emission vehicle inspection report and your completed application for registration. You do not need an approved vehicle inspection certificate if you purchase a vehicle from a dealership in Nevada.
Find a Nevada Emissions Testing Station
The Nevada DMV provides this resource for finding emissions testing centers, repair shops, and stations that offer registration renewals. Be sure to look for this sign posted at the facility:
What to Do if Your Car Fails Emissions
After the first failure, the owner must get their vehicle repaired and pass the second test. If the vehicle fails the second test, you may be eligible for an emissions waiver.
Emissions Waiver Requirements
To qualify for a waiver, your vehicle must have failed the second emissions test after attempting to repair the issue. You do not qualify for a waiver if any of these are true:
Your vehicle is still under manufacturer warranty
Smoke is emitting from your vehicle
The emissions device on your vehicle was tampered with
An emissions waiver is valid for 1 year. The vehicle must be repaired before the next registration.
Don't Drive Without the Proper Vehicle Inspections
If Nevada's car inspection laws in 2023 require your vehicle to undergo smog or emissions testing before you can register your car or renew the registration, comply with these requirements before getting back on the road to avoid penalties. If a police officer stops you for an expired registration or smog inspection sticker, you may be required to get the proper inspection certificate and registration within 14 days. Then, you will need to submit proof of your compliance to the courts. Failing to meet the requirements can result in fines and other penalties.
If you get into a car accident with a driver whose vehicle has not passed Nevada's inspections or is not registered, it's important to seek legal guidance from a Las Vegas personal injury attorney who can help you understand your legal options. A skilled attorney can provide you with advice on how to proceed with your case and help you obtain compensation for any injuries or damages you may have suffered.