Although the rise of rideshare companies such as Uber and Lyft have made public transportation significantly more convenient throughout Las Vegas and Nevada, they have arguably made car accident claims considerably more complicated. With multiple parties potentially liable, seeking compensation can be a confusing, stressful process.
If you or a loved one has been injured in a rideshare accident, please contact Koch & Brim, LLP immediately to discuss your case. Our Las Vegas car accident attorneys can help fight on your behalf for the compensation you deserve.
Why Choose Us?
At Koch & Brim, LLP, our rideshare accident attorneys are exceptionally equipped to pursue compensation on your behalf.
We have more than 40 years of legal experience assisting clients in all types of car accident claims.
We have a reputation for success, securing millions of dollars in favorable settlements and verdicts on behalf of our clients.
Our firm is committed to hands-on, direct service to our clients. You will always speak with the attorney assigned to your case – not a junior associate or a paralegal.
We represent clients on a contingency fee basis. There are no upfront legal costs, and you only pay for services if we secure a recovery on your behalf.
Why Do You Need a Lawyer?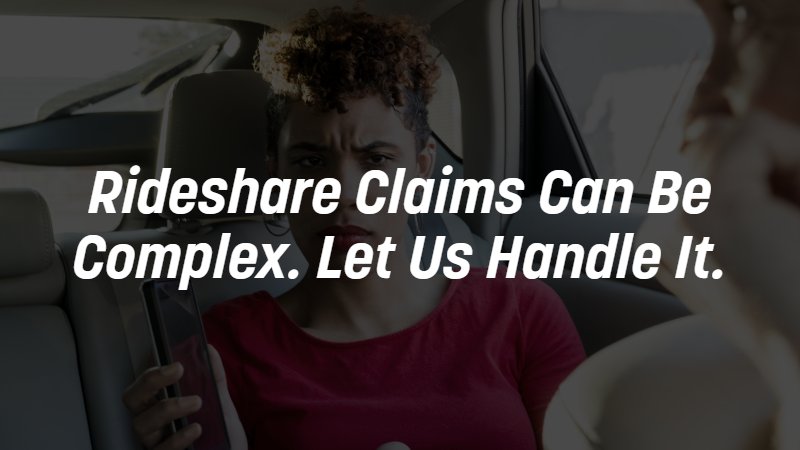 It is highly recommended to consult the services of a lawyer if you have been injured in a rideshare accident. Although a rideshare accident claim may seem like just another car accident claim, there are other circumstances that can considerably complicate the claims process. For example, although the rideshare driver in question may have been primarily liable for the car accident, you will likely have to submit a claim under Uber or Lyft's insurance, as they provide coverage for their drivers. However, this is not always the case, and other damages may be sought out against other parties.
An attorney can help determine who is liable for your injuries, pursuing compensation against all parties that are responsible for your injuries. Additionally, if you were injured in an accident as a passenger of a rideshare, you may be unsure of what to do regarding seeking damages. An attorney can help you out in these unique circumstances, having the experience to formulate a legal strategy on your behalf.
Rideshare Accident Injuries Can Affect a Victim for Life
At Koch & Brim, LLP, we are passionate about holding rideshare companies responsible for life-changing injuries. We are committed to holding major companies accountable for accidents that leave victims catastrophically injured. In our decades of legal experience, we have negotiated cases involving all major crash-related injuries on behalf of our clients, including:
Broken bones
Soft-tissue injuries
Permanent paralysis
Neck injuries
Whiplash
Deep lacerations 
Scarring or disfigurement
Limb amputations
Internal injuries or organ damage
No matter what type of injury you or a loved one was diagnosed with after a rideshare accident in Las Vegas, our personal injury lawyers can help you move through the legal process and protect your rights. We will fight for maximum financial compensation for a life-altering injury to help you and your family move forward with the peace of mind that you deserve. Our lawyers will make sure that your family has everything it needs throughout a legal claim.
What to Do After a Las Vegas Rideshare Accident
History has shown that rideshare companies do not easily accept liability for auto accidents. This makes it even more important to know what steps to take after a crash. If you can, take the following actions after your Uber or Lyft accident in Las Vegas to protect your rights:
Call the police if no one else already has. If your rideshare driver or the other driver involved in the crash has not called 911 from the scene to report the accident, do so yourself.
Check for injuries and seek medical care. Find out if anyone involved in the crash has been injured. Visit a hospital for your own injuries right away.
Do not admit fault. If you were a driver who was outside of the rideshare vehicle, don't admit fault for the accident and don't apologize to the other driver.
Gather evidence. Write down the name of your rideshare driver and other parties involved. Keep ride information, as well, such as a screenshot of your Uber or Lyft ride screen.
Take photographs while you are still at the scene of the crash, if possible. Be sure to capture any relevant details, such as skid marks on the road or vehicle damage.
Report the accident to Uber or Lyft and file a claim with the correct insurance company/companies. You can report the accident through the app or by calling the customer service line.
Don't give an insurance adjuster a recorded statement. You should also refrain from discussing your injuries – at least until you've seen a doctor.
Collect records of your medical care and maintain a pain journal where you detail the steps of your physical and psychological recovery.
Obtain copies of your police accident report and medical records. Keep all documents related to your rideshare accident organized in a folder.
Before you accept a settlement, contact a car accident lawyer in Las Vegas for advice. Bring your evidence folder and information about the crash to your initial consultation.
Once you contact an attorney at Koch & Brim, LLP, we can take over the remainder of the financial recovery process on your behalf. We have gone up against Uber and Lyft for injured clients since the advent of the rideshare industry and to know exactly how to handle these claims. You can trust our attorneys to fight for justice on your behalf while you concentrate on healing.
Advice to Passengers and Drivers After a Rideshare Car Accident
First and foremost, stay off social media. Any uploads and posts can and will be used to your disadvantage when taken out of context. If possible, immediately after the accident, take photos or videos of all vehicles, their positions, the road conditions, and any damage to property, like road signs and guardrails. Be as truthful as possible to the law enforcement officer. If you do not know the answer to a question, then say so.
The advice to the drivers is not to give any comment or supposition as to the accident or its cause. It is always best to let the evidence speak for itself. Unlike the claim of the passenger, your claim has the added layer of assessing liability. This advice will hold whether you are covered under the rideshare policy or if you will need a personal injury attorney to represent your claim.
In either case, you do not want to say anything that will broaden your exposure or the exposure of the rideshare company. The best response is: "I do not know what happened" or "I do not know how it happened."
After a few days, obtain a copy of the police report, keep track of all out-of-pocket expenses, and keep a personal journal of any pain or anxiety. This advice applies to both the driver and the passenger.
If medical attention is suggested at the scene, it is best to not refuse even if you "feel fine." Know that it is the adrenaline causing you to feel fine. Your refusal of medical attention and your comment about "feeling fine" will work against you and will be used by the other party to counter your claim for injuries.
As for the passenger, this is the time to begin your search for a Las Vegas personal injury attorney to examine the evidence you have gathered and, if possible, before speaking to any insurance company or opposing attorney. Your name and contact information will be within the police report, and you will be contacted. The personal injury attorney representing your claim will interface with the attorneys for the rideshare company and its insurance carrier on your behalf.
What Is the Statute of Limitations on a Rideshare Accident Claim in Nevada?
If you get injured in a rideshare accident in Las Vegas, even as a tourist who lives in another state, you must obey all of Nevada's relevant state laws when filing a personal injury claim. Nevada has one important law known as the statute of limitations for all car accident claims, including collisions involving rideshare vehicles. 
The statute of limitations places a strict filing deadline on accident injury claims. This time limit is two years from the date of the car crash, with some exceptions. This means that you have two years to file the paperwork and initiate a claim against Uber, Lyft, a motor vehicle driver or another party for your wreck. If you miss your window, you will most likely be barred from filing.
If the crash victim is a minor under the age of 18, he or she is given an extension. Injured minors typically have two years from the date that they turn 18 to file personal injury claims in Nevada. However, their parents have two years from the date of the accident to file for their own losses, such as related medical bills. There is also an exception known as the discovery rule. If a victim does not realize that he or she is injured immediately, the deadline is tolled (extended) until the date that he or she discovered or reasonably should have discovered the injury.
Contact Us Today
If you or a loved one has been injured in a rideshare accident, please contact us today to discuss your case. We are here to provide any help or support that you need in order to secure the compensation you deserve.