If you or a loved one has been injured from a bicycle accident, contact the Las Vegas bicycle accident lawyer at Koch & Brim today to discuss getting compensation for your injuries. Getting into a collision or accident while on a bicycle can lead to devastating injuries and costly medical expenses.  Don't navigate through this alone. Instead, call our injury attorneys today for a free consultation.
Why Choose Us?
Your case will always be handled by an attorney, not a paralegal or staff member.
We communicate openly and often with our clients. You can contact your lawyer 24/7.
Our team has practiced law throughout Nevada for over 40 years.
We have collected millions of dollars in settlements and jury verdicts for past clients.
We take all bicycle accident cases on a contingency fee basis, meaning no fees if we don't win.
Finding Insurance Coverage for Bike Accidents
When a bike is hit by a car or truck, the bicyclist is extremely vulnerable and the injuries can be very serious. At Koch & Brim, our Las Vegas accident attorneys help bicycle accident victims obtain the compensation they need to recover from injuries.
Contact an Experienced Las Vegas Bike Accident Attorney
Bike accidents happen for many reasons. A bicyclist may be riding on the side of the road and a car passes too close and hits the bike. Or a car driver does not see the bike and makes a turn right into the bicyclist. Drivers often do not recognize the bike's right to the roadway and will not allow enough room for the bike. The bike may be run off the road onto a dangerous shoulder.
Bicycle accidents have many unique elements that you may have to contend with as an injured victim, including:
Serious injuries: Bike accident injuries are almost always serious. A bicyclist is no match against a car or truck. Wearing a helmet cannot fully protect against a head injury. Broken bones, neck/back pain, and road rash are common injuries, but proper medical treatment can carry a high cost. If you do not have health insurance, a lawyer at Koch & Brim can help you find a doctor.
At-fault driver's insurance coverage: The person who caused the bike accident should be responsible for providing insurance coverage. If the bike accident was a hit-and-run or if the at-fault driver was uninsured, there are other options.
Your auto insurance policy may provide coverage: If you were in a bike accident, your auto insurance may cover your injuries. Your policy may also cover the injuries if your minor child was in a bike accident.
Uninsured motorist coverage: When the at-fault driver was uninsured or underinsured or when the driver left the scene of the accident and was not identified, your automobile insurance policy's uninsured motorist coverage is available even though you were not in a car.
Regardless of what complications you run into with your injury claim, our bicycle accident injury lawyers can help you seek compensation from insurance coverage for a bike accident. Hiring an attorney can help you overcome any challenges that you may face during the legal process.
What Are a Bicyclist's Rights and Responsibilities in Las Vegas?
Las Vegas is one of the busiest cities in terms of bicycle and pedestrian activity. Despite having so many people on its roads, Las Vegas does not have many bicycle lanes or paths. This means that bikers must often share the road with motor vehicle drivers. Understanding all of your rights and responsibilities as a bicyclist in Las Vegas can help you stay out of harm's way. Bicycle laws and rules in Las Vegas include:
Bicyclists are allowed to ride in the road alongside motor vehicles.
All of the same rules of the road apply to cyclists, including stop signs and rights-of-way.
Cyclists must ride in the same direction as motor vehicle traffic, not against traffic.
Bicyclists must keep as far to the right side of the road as possible, except when turning.
Cyclists cannot lane split, or ride in between two lanes of vehicle traffic.
If there is a bicycle lane available, the biker must use this lane.
Bicyclists have a right to expect drivers to keep at least three feet of distance.
Bicyclists of any age do not have to wear helmets under Nevada State Law.
Unfortunately, many drivers in Las Vegas are impatient, reckless and ignorant of bicyclists' rights. This can lead to dangerous driving behaviors around vulnerable cyclists and related auto accidents. If a motor vehicle driver violated one of your rights and caused an accident, you may be eligible for financial compensation.
Most Common Injuries from Bicycle Accidents
Getting into a bicycle accident can be devastating for anyone. Even with all the basic safety equipment on including a helmet, the risk of sustaining injuries in a bicycle accident is huge. That's why our Las Vegas bicycle accident attorneys work hard to defend bicycle accident victims suffering from these most common injuries:
Internal Injuries/Bleeding
Broken Bones
Severe Road Rash
We can represent you if you have been diagnosed with any type of physical injury – or if you are dealing with psychological trauma – after a bike accident. In some rare cases, tragic bicycle accidents could also lead to death. If you've lost a loved one in Las Vegas get the help of a wrongful death lawyer to pursue your claim.

Most Common Causes of Bicycle Accidents
Given the safety risks, Nevada laws are designed to protect people who on bicycles and share the roadway with cars. However, even with these laws, tragic bicycle accidents still occur on a daily basis. Here are some of the most common causes of bicycle accidents:
Distracted Driving.
Failing to Leave Adequate Space.
Speeding.
Unsafe Lane Changing.
Running a Red Light/Stop Sign.
Opening a Car Door onto Incoming Traffic.
Driving under the influence
Drowsy driving
Reckless driving
Making an illegal left-hand turn
Failing to yield the right-of-way
Road conditions/defects
Motor vehicle drivers are responsible for most bicycle accidents in Nevada. If a driver or another party is at least 51 percent at fault for your bicycle accident, he or she will be financially responsible for your expenses under Nevada law
Who Is Responsible for a Bicycle Accident in Las Vegas?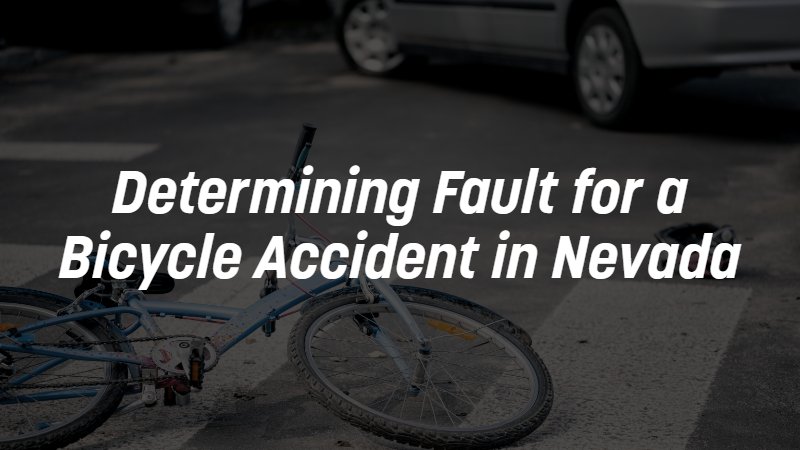 Nevada is a fault state. This means that the person who caused the bicycle accident pays. In a no-fault state, on the other hand, an injured person would seek compensation from his or her own insurance company, even if the person did not cause the crash. Before you can file a bicycle accident claim, you or your lawyer must determine who or what caused the wreck. You must prove that this party is more likely than not at fault for the collision.
Most bicycle accident cases in Las Vegas are based on the legal theory of negligence. Negligence means that a defendant did not act with proper care and that this caused the accident and injuries in question. Negligence has four elements: duty of care, breach of duty, causation and damages. In essence, an injured victim must prove that the other party had a responsibility to act with care, failed to fulfill this responsibility and caused the bicycle accident. These elements must be proven with clear and convincing evidence.
Motor vehicle drivers are often named as defendants in bicycle accident lawsuits. You may be able to file a lawsuit against the government in Nevada, however, if a dangerous road defect caused or contributed to your crash, such as a crack in the asphalt or a broken stoplight. The government has a responsibility to adequately maintain its roads for all users, including cyclists. You also may be able to file a claim against a manufacturer if a vehicle part malfunctioned. An attorney can carefully review your case to determine liability.
What if You Weren't Wearing a Helmet? Can You Still Recover Compensation?
Although Nevada law does not require you to wear a helmet, you should wear one for your own safety. Bicycle helmets reduce the risk of serious and fatal head and brain injuries. If you were not wearing a helmet at the time of your accident, this could impact your Las Vegas personal injury claim. The defense attorney may be able to allege that your injuries would not have happened, or would not be as severe, had you been wearing a helmet.
If the courts find that you did contribute to your injuries by not wearing a helmet, this could reduce the amount of financial compensation that you are entitled to receive from the defendant. Nevada is a modified comparative negligence state, meaning that as long as your failure to wear a helmet does not place more than 50 percent of the fault for your injuries with you, you will still be able to receive a monetary recovery. Any percentage of fault for not wearing a helmet, however, will reduce your recovery.
What Damages Can You Collect as a Bicycle Accident Victim?
Damages is the legal term for financial compensation that may be available during a personal injury case in Nevada. If you have a successful insurance claim or injury lawsuit against one or more parties after a bike accident, you could collect both economic and noneconomic damages. The types of losses that you can include on your claim will depend on the specific circumstances. You may be entitled to the following damages:
Medical bill repayment
Bicycle repairs or replacement
Reimbursement of lost wages
Compensation for all future lost earnings
Payment for physical pain and emotional suffering
Punitive damages may also be available if the defendant is guilty of gross negligence, recklessness, fraud or the intent to injure you. Punitive damages are given to punish a defendant for wrongful acts in connection to an injury rather than to compensate the victim. An attorney from Koch & Brim, LLP can help you determine the value of your bicycle accident claim and pursue maximum financial compensation from all available sources.
Get a Free Consultation from Koch & Brim
Contact us in Las Vegas today about your case! Either fill out the form on our site or give our Las Vegas personal injury lawyers a call today at (702) 410-6034!