When a dog bites or attacks someone in Nevada, the dog owner is almost always liable. If a dog bit you or someone in your family, or attacked, or even jumped on you and caused injuries, talk to a Las Vegas personal injury lawyer about the victim's rights.
Contact a Las Vegas Animal Attack Lawyer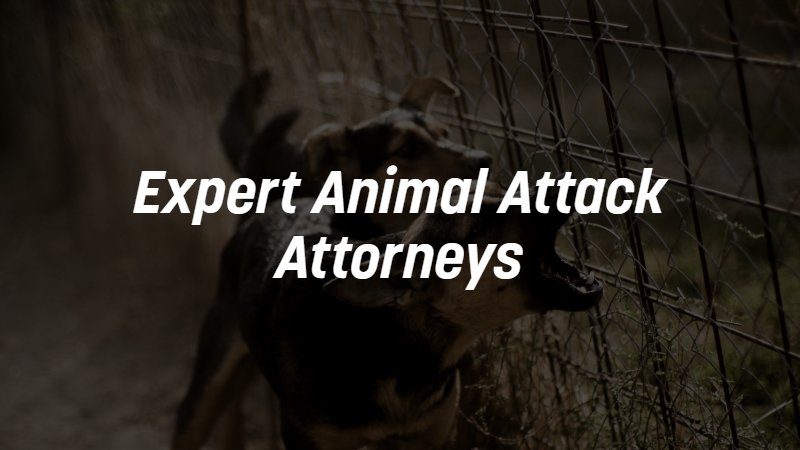 Dog bite injuries are serious – both physically and psychologically. The scarring and nerve damage can last a lifetime. At Koch & Brim in Las Vegas, our attorneys handle every dog attack case with the long-term effects in mind. Contact us to set up a free case evaluation.
Dog Bites Require Medical Attention
A dog bite or dog attack injury requires immediate medical attention. If you are not sure what doctor to call or if health insurance is a problem, please call our law firm. We will arrange for you to be examined by a capable physician who can treat you right away.
Long-Term Medical Needs May Be Required After a Dog Attack
Dog bite injuries can cause disfiguring scars that require plastic surgery. Nerve damage can be a continuing problem. And there is often deep psychological pain that requires therapy, especially when children are the victims. Dog attacks can also knock victims to the ground causing broken bones and other injuries.
Have a Lawyer Help File Your Las Vegas Dog Bite Injury Claim
Dog bite and dog attack victims are often small children and vulnerable elderly people. Insurance companies sometimes offer a quick settlement, but it is a good idea to have a Las Vegas personal injury attorney who understands the medical and psychological issues involved, and who will work for fair and just compensation.
Financial Compensation Available for a Dog Bite Injury
In Nevada, if a dog attacks you and causes an injury that requires professional medical care, interferes with your ability to go to work or damages your property, you may be entitled to financial compensation from the pet owner's insurance company. A successful insurance claim or personal injury lawsuit in Clark County could end in a settlement or verdict that pays for all of your related losses, including:
The price of emergency medical services
Follow-up medical care and doctor's appointments
Physical therapy and rehabilitation
Psychological therapy for emotional damage
Lost wages and capacity to earn
Physical pain and suffering
Nerve damage and chronic pain
Scarring or disfigurement
Lost quality of life
The wrongful death of a loved one
Punitive damages
The value of your dog bite claim often correlates with the severity of your injuries. If a dog bite injury left you with permanent damage or scarring, for example, your claim may be worth more than if you only had a mild injury. Every dog bite injury case in Nevada is unique. Learn the value of your case by consulting with an attorney from Koch & Brim, LLP. We will give you an accurate representation based on your injuries and other factors.
Common Injuries Caused by Dog Attacks
Dog attacks can easily cause injuries that require emergency medical treatment. Depending on the size of the dog's jaws and the ferocity of the attack, the injuries may be life-threatening. Even minor dog bite injuries can leave behind permanent physical scars and psychological trauma. At Koch & Brim, LLP, a Las Vegas dog bite lawyer can help you determine your rights if you or a loved one suffered any type of injury from a dog or animal attack in Las Vegas, including:
Severe lacerations
Puncture wounds
Soft-tissue injuries
Damage to muscles or tendons
Facial injuries
Permanent injuries
If a loved one tragically passed away due to injuries inflicted by a vicious dog, we can help you explore your right to bring a wrongful death lawsuit instead of a personal injury claim. Surviving loved ones may be entitled to financial compensation for the price of a funeral or burial, as well as lost earnings and mental anguish. Our Las Vegas dog bite attorneys are highly experienced in all manner of physical and emotional injuries.
What Is Nevada's Dog Bite Law?
When it comes to dog bite injury lawsuits, most states use either a one-bite rule or strict liability law. A one-bite rule requires evidence that the dog had bitten someone previously for a victim to hold a pet owner financially responsible. A strict liability law holds a pet owner responsible for injuries inflicted by a dog without regard to any prior knowledge of the dog's propensity for viciousness.
Although Nevada does not have a specific dog bite statute, previous dog bite injury cases have shown that the courts typically apply the negligence doctrine, placing Nevada in line with the one-bite rule against dangerous dogs. To hold a dog owner responsible for a bite injury in Nevada, there must be evidence that the pet owner was negligent. This means the owner failed to use an appropriate amount of care in preventing the incident.
For the negligence doctrine to apply, the pet owner must have known or had reason to know about the dog's propensity for viciousness. Then, the owner must have made a lapse in judgment that caused or significantly contributed to the dog bite injury; for example, if the pet owner failed to keep the dog on a leash in a public place even after the dog bit someone. You may need an attorney's assistance to bring a lawsuit and evidence against a pet owner under Nevada's dog bite.
Leash Laws in Las Vegas, Nevada
Since Nevada relies on a negligence rule to determine liability for most dog bite injuries, you may need to base your claim on the argument that the owner or controller of the dog was breaking one of Nevada's laws or regulations at the time of the incident. If you or your lawyer can prove that the pet owner was breaking a law, you may be able to file a claim based on negligence per se.
Negligence per se means that a defendant is liable for an injury caused by breaking the law without any further proof of negligence necessary. In Las Vegas, municipal leash laws generally require all dogs to be within the control of their owners at all times – using a leash – when in public. Allowing a dog to run at large, except in designated dog parks, is a misdemeanor in Nevada that can come with up to $1,000 in fines and even jail time. If a dog was negligently running at large at the time of your attack, you may be able to use a broken leash law as evidence against the pet owner. If the attack happened outside of Las Vegas, different local laws may apply. Your attorney will determine relevant laws for your specific dog bite injury.
How Long Do You Have to File a Dog Bite Claim in Las Vegas, Nevada?
Lawsuits filed over dog bites and similar injuries fall under personal injuries. The Las Vegas personal injury statute of limitation in Nevada is two years from the date of the injury. There is an exception, however, if the dog bite injury victim is a minor under the age of 18. In this case, the deadline may be tolled, meaning the clock won't start ticking until the victim turns 18. It is critical to speak to an attorney as soon as possible after a dog attack in Las Vegas, as missing the two-year deadline generally means forfeiting the ability to file a lawsuit at all.
Can a Dog Be Put Down for Biting Someone?
Some victims are reluctant to come forward with dog bite injury reports and file related personal injury lawsuits for fear of the dog being put down (euthanized). This is an unlikely outcome in Nevada, however. While it is possible for a dog to be put down for biting someone, this is generally only the case if the dog exhibited extremely dangerous or vicious behaviors, such as causing severe bodily injuries or the death of a victim.
In addition, before a dog is euthanized for attacking someone, the matter is put to trial for the specific issue to be determined by a judge upon a careful review of the facts. If you do not wish the dog to be put down, you can voice your opinion as the injured victim at trial. Likewise, if you do wish for the dog to be euthanized in order to protect others, this opinion will also be taken into consideration.
What to Do if You've Been Bitten by a Dog
Seek medical treatment immediately. Even if the wound might seem minor to you. Dog bites are prone to infection, and you never know if you've been bitten by a dog with a disease.
Talk to the dog owner. If you're able to identify the owner, let them know what occurred and exchange contact information with them.
Take photos of your injuries. Try to also note down how the incident happened so that you have notes to go back to in the future.
File a report. This is helpful in all cases whether it was a simple incident or a life-threatening bite. Filing a report with local police or animal control will document your incident and help your case.
Contact a local dog bite attorney. Your attorney will help you with your case while you focus on healing.
Talk to a Las Vegas Dog Bite Attorney
Our Las Vegas dog bite lawyers believe that every dog bite deserves attention to avoid any injuries and pledge to help you get the compensation you deserve. Contact us today if you have any questions or to book a free case consultation.